10 Reasons to Own Property in Brittany
Brittany is a very popular region with the Brits. Here are 10 Reasons to Own Property in Brittany …
1. Location, location, location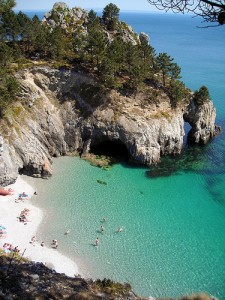 Brittany, or Bretagne, boasts a whopping 1,700 miles of coastline, making it an obvious choice for those wanting to live on or near the water. The ocean offers the chance to engage in all the water sports you could dream of, or simply to sit on the rocky cliffs and take in the spectacular views.
Image: cc licensed ( BY ) flickr photo by Chiara
2. The weather is divine
The climate in Brittany redefines temperate. Summers are not too hot and it rarely snows in winter. But this is not to say that you'll be able to predict the weather each day. Winds can get blustery and rain showers can take you by surprise. Living in Brittany, you'll be able to enjoy mostly clear and sunny days, with the occasional storm just to keep things interesting—and who doesn't love watching a storm roll in over the ocean?
3. You can go island hopping
On the weekends, take a short boat ride (seriously—sometimes as short as five minutes!) from the mainland to one of many islands just off the coast of Brittany. Once there, you can explore prehistoric sites, check out the wildlife, rent bikes, hike, or relax on the beach.
4. There's a ton of history
The region of Brittany is a wealth of history, from the Carnac stones and other prehistoric sites, to castle architecture, to the legend of King Arthur. It will be impossible not to get excited about the rich Breton culture when you're living in a place so steeped in history.
5. Lower unemployment than the French national rate
This one speaks for itself. Though historically Brittany has been unindustrialized, that has changed in recent decades, and high percentages of Bretons remain employed in traditional sectors such as the wine and fishing industries. It wouldn't hurt to have vintners and fishermen for neighbors and friends!
6. The food
Because of its historical separation from main France, Brittany has its own cuisine. You'll have access to the finest fresh seafood, especially mussels and oysters, and also enjoy cider and beer brewed locally. Traditional dishes include pancakes and galettes, a savory crêpe-like bread made with buckwheat and served rolled up with sausages or eggs. The region is also known for its salt, so prepare to enjoy the best butter, biscuits, and milk caramels on a daily basis. And you won't need to worry about gaining weight because of the…
7. Endless opportunities to get active
Brittany offers a vast network of voies vertes or greenways, forming 2000 km of marked trails that you can access on foot, by bike, or on horseback. And if you prefer to be on the water, you can surf, sail, windsurf, kayak… the boundless options for outdoor activity in combination with the fantastic weather make Brittany an active individual's dream.
8. Strong Breton cultural identity
Brittany has Celtic as well as French ties, and a 2012 poll revealed that 48% of the respondents identify first as Breton before French or European. It also showed that Breton identity is stronger among people younger than 35. It's no surprise that in a region with strong cultural myths like those of King Arthur and the Lady of the Lake, a rich history, and a contested political past, residents love their region and work to preserve their home's unique identity. Living in Brittany, you'll have a chance to become part of this close-knit community.
9. City or small town life
Brittany has two major cities, Nantes and Rennes, and hundreds of smaller towns and villages. Depending on your career and needs, you can live where you prefer, but within easy reach of a city if you're in a small town, and vice versa. If you live inland, you can quickly reach the shore, and if you reside on the coast, the inland regions are a short drive away. Brittany truly offers the best of all worlds.
10. Numerous festivals
On Brittany's calendar of festivals and cultural events are some of France's biggest contemporary music gatherings, the Fête de la Bretagne, Brittany's cultural celebration, fishing festivals, film festivals, and even a science fiction festival. Why not choose to live in a community that loves to celebrate?
Author Bio: Sara Collins is a writer for NerdWallet. She works to help homeowners learn about personal finance topics so they can make informed decisions and retire rich.
Leave a Response